Offers Full Warranty Coverage On All Your Electronics For One Low Monthly Price Of $29.97!
Matrix Protection is revolutionizing the extended service and repair industry. Traditional service plans purchased at big box electronic stores or online require you to pay large upfront premiums for each consumer electronics device protected. With Matrix Protection, you are able to cover all of your eligible electronic devices, new or refurbished, with one low fixed monthly fee.
Protect your TV, DVD, Games, Computer, Stereo, Cell Phones, Coffee Maker, Power Tools, Drills etc. Now when you shop and turn down the store offered expensive warranty for that 'one' product, you'll have peace of mind that your Matrix Protection has the better coverage, covering all electronics, new and used! This Plan Covers past purchases up to 4 years prior!
Matrix Electronics Plan Coverage for all of your eligible electronics – past, present and future! Once signed up, you will be able to register your phones, tablets, laptops and all other eligible electronics in just minutes. NOTE: The average U.S. household has about 40 electric gadgets. None of them are invincible.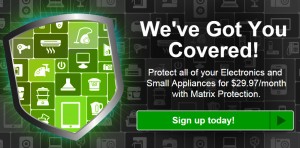 We are proud to be a part of Matrix Protection and offer you, our loyal reader, the ability to protect all your electronics for less than $30 per month…for ALL Your Household Electronics. That seems hard to believe but it's true.
Every Matrix Electronics Protection Plan is fully insured, and value depreciation is a thing of the past. If a protected product is beyond repair and a replacement product is not available, Matrix Protection will simply refund the cost of the original purchase price.
We've Got You Covered!
Protect all of your Electronics and Small Appliances for $29.97/month with Matrix Protection.
WHAT IS MATRIX PROTECTION?
An Electronics Warranty Built With You In Mind
Times change, so should the level of protection and service you expect.
Protect New and Refurbished Products | The Matrix Electronics Protection Plan protects new and refurbished electronics and small appliances.
Protect Past and Future Purchases | Any electronics and small appliances you currently own or will purchase in the future are covered.
Repair, Replace or Refund | We process all claims within 4 hours. If we can't repair, we'll replace. If we can't replace, we'll refund.
24/7 Toll-Free Customer Hotline | You never know when disaster might strike. We'll be there no matter what.
SO, WHAT EXACTLY ARE YOU COVERING?
Any Brand – Any Store
You buy online. You buy offline. It's cool, Matrix Protection has you covered. You buy electronics and small appliances from all sorts of places. The Matrix Electronics Protection Plan covers all the new and refurbished electronics and small appliances you buy – no matter where you buy them. And no matter what the brand!
Click Below To Sign Up Today!

WHAT IF I BUY NEW ELECTRONICS?
Protection That Grows With You
Add products to your plan as you buy them.
Say "no" to the hard sales pitch – you're already covered. Simply add the electronics and small appliances that you purchase to your Matrix Protection plan via your Product Dashboard and you're covered.
WHO USES MATRIX PROTECTION?
Meet Real People Who Broke Real Things…
"I really like that I just add new products to my coverage as I buy them. That's so convenient. Even covers the stuff I buy online on sites like Groupon and Amazon."

"At first, I couldn't believe that this service covers all of my family's electronics items. We have 3 kids in the house with all types of gadgets. Not having to worry about things breaking is a big deal to our family."

"The great thing about this is that no matter what types of electronics you have or what you paid for them, it all falls under one roof. In our home we've got 3 iPhones, 2 iPads, 3 computers, 2 TVs…the list goes on and on."
Over 27,000+ Protection Plans Issued so far. Will you be next?
Click Below To Sign Up Today!

 Watch This Video To Learn More About Matrix Protection and How It Can Protect and Save You Money